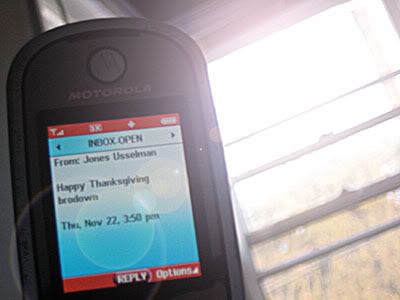 This is Thanksgiving.
Other than the extra long weekend it provides, I'm not a big fan of Thanksgiving. However, I was able to turn this normally lonely holiday into a pretty fun day.
This morning, B and I volunteered for
Gobble Gobble Give
. I helped carve up/break down some turkeys, which was actually really gross. Later, I got to go around and hand out meals and clothes to
homeless
people in LA. It was awkward at first to ask someone if they needed food (I was worried I was going to ask someone who wasn't homeless but just disheveled looking and they'd take offense - luckily I guessed correctly) but after seeing how happy it was making people, my negative thoughts quickly dispersed.
I am thankful for: friends, parachutes, hamburgers, and having two ears.
I am
not
thankful for: spiders, having to breathe to live, and
Mutant League Football
for SEGA.
-----------------------------------------------
This
is an interesting segment about Thanksgiving from Russell Means' book titled -
Where White Men Fear To Tread